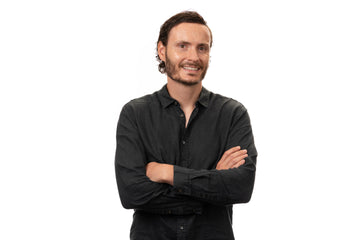 ROCKLEOPARD - Sharing the Benefits of Sustainable Yoga Products
From Personal Path to Sustainable Manufacturing
I learned what panic attacks were after driving to the hospital thinking I was having a heart attack.

The doctor recognized the symptoms immediately.

I was sweating, breathless, disoriented. My heart was pounding in my chest like the bass drum in a techno song.

"What do you do for work?" he asked. "Is there stress in your life?"

I can laugh now, because at the time, every aspect of my life was STRESS.

I worked a job I hated after failing in business, I was in a new country and had zero friends, I had a childhood filled with bullying and abuse.

I was basically a walking hand grenade with the pin pulled.

I needed help.

I saw a shrink who put me on half the pills in the pharmacy.

I turned into a walking corpse.

I couldn't live like that, but without them I couldn't live.

And then one day, my wife suggested that I try yoga… I scoffed. I was not the yoga type.

But yoga saved my life.

I got off the pills, my breathing slowed, my mind stopped racing, I was present in life, and genuinely happy.

But with time it really helped me slow down my thoughts and be more present in life.

It made me want to help others as I realized that so many of us are secretly suffering with anxiety and self doubt but not many of us are self aware enough to notice it, just like me for many years.

By wanting to help others with their mental health, this was taking me back to being more in line with my true self, to run my own business that helped others.

So why start a yoga company you ask?

We quickly realized a problem with yoga products - they were not built to last and were often made from unsustainable materials.

We couldn't bear the thought of these products ending up in landfills after a relatively short period of time. That's why we set out to create durable products that would stand the test of time.
Our commitment to the environment goes beyond durability.

We make every effort to minimize our impact on the planet, from using sustainable materials and achieving zero-emission manufacturing to using recyclable packaging and offsetting our carbon footprint with each delivery.

For every unit sold, we plant 10 trees in Madagascar to help replenish the earth.

We believe our products can help you unlock your inner strength and become your fitness partner.

Let us provide the tools you need to reach your goals and make lasting changes towards a happier, healthier life. Together, with courage, determination, and focus, we can create a better future.
We Are Proudly
Australian.
Soft & Safe Fabric

Our products are OEKO-TEX 100 & REACH Compliant. Meaning they have been tested for harmful substances to protect your health. These standards, certifies that every component of the product, from the fabric to the thread and accessories, has been rigorously tested against a list of up to 350 toxic chemicals.

Lightweight

We want our impact on the environment to be as light as a feather.
That is why we manufacture emission free and use sustainable materials where possible. All packaging is recyclable. We plant 10 trees for each product sold and remove any carbon generated in shipping your product to your door.

Products That Last

We believe that Yoga products should last the test of time.
So that you can get on with your practice, free from any distractions caused by a low quality product.
Luxury and Simplicity: Yoga Mats for the Modern Individual.
Yoga has become an increasingly popular practice in recent years, and with that, the demand for high-quality yoga mats has grown as well.

As the founder of the ROCKLEOPARD brand, my aim is to provide luxurious and elegant yoga mats that complements the lifestyle of the modern individual.

As Oscar Wilde once said, "To love oneself is the beginning of a lifelong romance."

At ROCKLEOPARD, we believe that practicing self-care and treating yourself to little luxuries like our yoga mats can have a positive impact on your well-being.

We prioritize quality over gimmicks, letting our products speak for themselves.
At ROCKLEOPARD, we believe in the power of simplicity.

Our mats are designed to enhance the practice of anyone who lives and works in the real world, regardless of gender.

We understand that balancing everything can be challenging, and that's why we've created a mat that seamlessly fits into your daily routine.

Our commitment to quality goes beyond just the product. We've developed long-standing relationships with our producers and photographers, ensuring that every aspect of our brand reflects the same level of excellence.

We don't believe in the celebrity culture that dominates the fashion industry. Instead, we aim to make every individual feel rich and confident, regardless of their financial situation.

Our yoga mats provide a sense of luxury that can improve your self-image and increase your overall happiness.

We're not experts in casual clothes, but we are experts in creating high-quality yoga mats that complement the lifestyle of the modern individual.

Our mats are designed with simplicity and luxury in mind, and we're committed to providing a product that can improve your overall well-being.